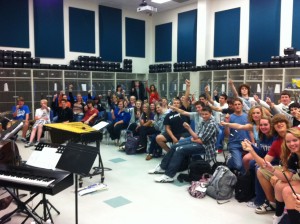 Ignite the Arts is a nationally touring educational outreach program, developed by musician Christian Tamburr to help inspire and revitalize the arts in our public schools.  This program also partners with the Brubeck Institute on important curriculum and content elements.
The tour features top musicians from around the world presenting workshops and performances for students. Our goal is to leave a lasting impression on the students and the communities we visit while increasing awareness and support for the arts.  Our objective for this program is to expand the tour from initial roots in music to include a broader base including fine arts and theater arts programs as well.
The typical Ignite the Arts tour event includes a day of master classes in which students and teachers engage with professional performers and artists to develop skills along a variety of subjects.  The workshops are followed by evening performances and exhibitions featuring both students and the touring professionals.  Evening events are designed to provide a community based outreach and fundraising opportunity to support each participating school's music and arts programs.
The Ignite the Arts program director works closely with each school to select workshop options and to develop a unique, inspiring and highly successful program.  Participating schools must make an active commitment to promotion and implementation of core program elements including provision of local volunteers for outreach and support of the evening program.
Click here to see a copy of the current program handout.
For more information on bringing an Ignite the Arts tour event to your school and community contact us at:  ITA@blackwingfoundation.org