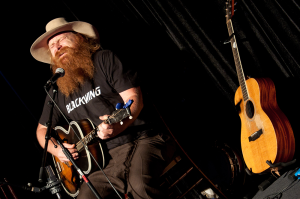 Willy Tea Taylor is a touring musician who No Depression Magazine called "one of the most important singer-songwriters of this generation."
His latest album, "Knuckleball Prime", is set to be released on October 23, 2015 by Blackwing Music. Recorded in Nashville, TN, "Knuckleball Prime" features eleven original compositions that highlight Taylor's brilliant storytelling and heartfelt vocals. Produced by Michael Witcher, Taylor's songs are brought to life by a stellar lineup of musicians, including Gabe Witcher (Punch Brothers) on fiddle, Noam Pikelny (Punch Brothers) on banjo, Sara Watkins (Nickel Creek) vocals and Benmont Tench (Tom Petty & the Heartbreakers) on piano.
Willy Tea is a strong believer in the importance of music and arts education in schools, volunteering in classrooms when he's not on the road. He has been gracious enough to lend his stories, his songs and his passion for education to events benefitting the Blackwing Foundation. To learn more about Willy Tea, visit www.WillyTeaTaylor.com.