NATIONAL PARTNER: MARK O'CONNOR
&

THE NEW AMERICAN SCHOOL OF STRING PLAYING
The New American School of String PlayingTM and its O'Connor MethodTM represent an innovative approach to teaching students to become accomplished musicians through carefully curated music designed to gradually grow the students' skill and understanding. It is the creation of Mark O'Connor, world renowned violinist and fiddler, American composer and current front man of the Grammy Award winning O'Connor Band.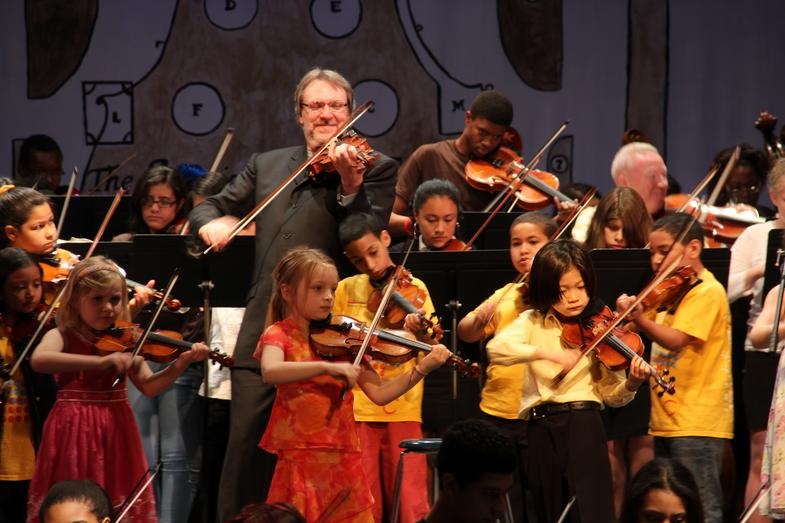 Most programs aimed at teaching the violin, an instrument that has been around since the 16th century, use the same classical music and rote repetition of learning to play just the notes on the page.  The O'Connor MethodTM promotes a future in which young musicians quickly develop the skills to socialize in more creative self-guided and impromptu ways: jamming, listening together, forming bands, sharing ideas, composing, and improvising in ways that also promote multi-instrumentality.
What is truly exceptional about this New American School of String PlayingTM is how it utilizes a precise selection of the most endearing melodies in American music and great folk tunes, to create a more fun and immersive learning experience for the students. The Method makes it a point to represent all of the Americas and the musical styles found within, including classical, folk, Latin, jazz, rock, and ragtime. The gradual advancement of left-hand technique, bowing skill, and ear training through these timeless songs and styles truly resonates with the violin student. The music is simply catchy and fun to learn resulting in faster development and longer term persistence in playing the violin, among other string instruments including cello, viola and bass.  Indeed the violin is perhaps one of the best instruments for early adoption by younger children given it's availability in a multitude of sizes without impacting musical.
HOW BLACKWING FOUNDATION IS HELPING
The Blackwing Foundation is pleased to partner with Mark and the New American School of String PlayingTM to promote adoption of the O'Connor Method and to provide our Ignite the Arts Grants to schools wishing to adopt this innovative method of learning.  Please note that our grant programs do have a primary emphasis on bringing these resources to schools which do not currently have any form of music education as opposed to simply supplementing already existing strings or orchestra programs.  As examples of proposals we might support, a middle school with no current strings program could adopt the O'Connor Method as a starter-feeder program to it's existing High School Orchestra program or an elementary school without any music program might bring in the O'Connor Method as it's beginners music program.
If you'd like to explore grant opportunities reach out to us here.
Learn more about Mark, The New School of American String PlayingTM, and it's summer camps, teacher training and certification programs as well as the O'Connor MethodTM through the following links: