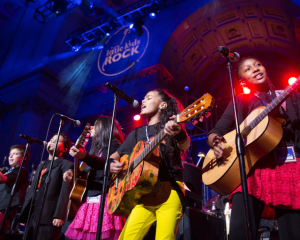 Little Kids Rock partners with public school districts in some of the nation's most economically disadvantaged communities with the goal of ensuring that all students (K-12) have access to an engaging, relevant and fun music education program. As the nation's leading nonprofit provider of free music instruction and instruments to public schools, Little Kids Rock has changed the lives of nearly 250,000 children.
The Little Kids Rock Modern Band program focuses on popular music styles that most students already listen to, including rock, blues, rap and hip-hop. Heavy emphasis is put on composition, improvisation and recording, and kids regularly get to record their own music, create CDs – even make their own rock videos, which teachers can share on the Little Kids Rock teacher community website – The Hang.
Blackwing Foundation is partnering with Little Kids Rock through providing a multi-year funding and assisting in outreach to expand the program regionally and nationally.
Learn more at www.littlekidsrock.org.